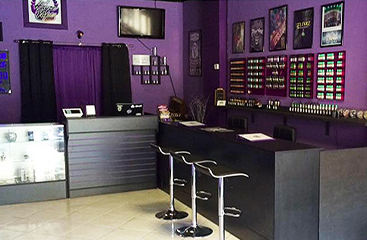 We opened 7/8/16. We were the first vape shop in Waukegan. My partner and I are lifelong Waukegan residents and wanted to open a shop in our town to help build our community. We both started vaping in 2012. I retired from my job of 30 years to open this shop. I wanted to have a business that would help people and I saw how vaping helped my boyfriend stop smoking cigarettes after 17 years of smoking Newports.
Welcome to the number 1 vape shop in Waukegan. Our goal to help you find the best smoking alternative device and e-liquid to help you on your smoke free journey. We also carry top quality CBD products that were created to help with anxiety, pain and many other issues. We pride ourselves on our excellent customer service and dedication to having you as a lifelong customer. We do special orders. If you are looking for a device or juice that we don't carry, we will do everything we can to obtain it for you.
We offer a generous reward program as well as a variety of discounts.
Military Discount
1st time customer discount
Midweek Mayhem Sale
E-liquid Brand of the Week
Coming soon – Hardware item of the week.
Occasional Holiday and Special Event Discounts