We offer a welcoming a relaxing atmosphere to come in, have seat and try some flavors to see which is your favorite. (There is a small tasting fee) All the testers are in 0 nicotine. We will help you set up any new mod you purchase. We not only carry e-liquid, mods, pod systems and the common vape accessories, we also carry Cartridge batteries and dry herb vaporizers.
Vape shop and lounge
Hayze Vape is the place to go for all of your vape needs. We are a one-stop vape shop for all vape mods, vape juice, and vape supplies in Waukegan, IL. Are you in the midst of making the switch from cigarettes? We are the perfect place to come because we offer the finest selection of premium e juice and vape mods for the veterans, and vape starter kits for those just beginning. Whatever your preferences may be, our friendly and knowledgeable staff will be happy to help you find it. To learn more about all of the vape accessories we offer, contact us today.
Vape Mods
Are you looking to quit smoking and need a positive alternative? Look no further than Hayze Vape. Our knowledgeable staff can help you choose the right vape pen and accessories for you. We understand exactly what you need when it comes to vape supplies. You can be a seasoned vape user, or brand new, but we are sure to satisfy all levels of vape experience. Call Hayze Vape for more information, or stop on by, see our quality selection, and relax in our awesome vape lounge!
Vape Supplies
Hayze Vape is the perfect vape shop for Waukegan area residents to pick up all of the vape accessories they will need. We carry all of the top brands available and offer them at a reasonable price. If you are new to vaping and aren't sure what you will need, we also offer starter kits and our staff would be more than happy to answer any questions you might have. We are highly experienced and can help you find the products that work best for you. Come into Hayze Vape today find all of the accessories you may need and enjoy them right away in our comfortable vape lounge.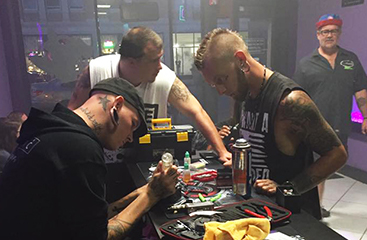 Vape Lounge
Once you've found the perfect vape pen, e liquid flavors and vape accessories for your experience, please make yourself at home in our vape lounge. You'll be hard-pressed to find a more comfortable and sociable environment for vaping. Our friendly staff will be delighted to provide you with all the advice and assistance you need, so don't be afraid to ask. We pride ourselves on providing a non-intimidating experience to those new to vaping. To explore the fantastic environment of our vape lounge and shop, please stop by Hayze Vape today!
E-Juice
Here at Hayze Vape, we have a seemingly never-ending selection of name brand E juices, so we'll always have something to accommodate your tastes. Our E juices and E liquids are comprised of only the finest quality products: you'll never find a dull taste here! Once you've picked out your juice, go ahead and relax in our vape lounge. Please make yourself comfortable, we want you to feel right at home here at Hayze Vape. To explore our name brand E juices and vape lounge, please contact us or stop by Hayze Vape today.
Hayze Vape is a Vape Shop in Waukegan, IL
Hayze Vape provides customers with a quality vape shop in the Waukegan, IL area. With vape starter kits for those new to vaping and E juice and vape mods for those who have been vaping for years, we have options available for all experience levels. We offer top quality hardware for the seasoned vapers as well as provide a welcoming atmosphere. We want our vape lounge to be a place where you can relax and enjoy your vape pen.
If you are tired of paying a small fortune for your cigarettes and are looking for a healthier and cheaper alternative, Hayze Vape can help you make the switch. Our vaporizer shop is also stocked full of all the latest E accessories. If you'd like to learn more about the vape accessories we offer and to discover the benefits of E liquids, give us a call today.