Hayze Vape is the place to go for all of your vaping needs. We are a one-stop vape shop for all vape mods, vape juice, and vape supplies in Waukegan. Are you in the midst of making the switch from cigarettes? We are the perfect place to come because we offer the finest selection of premium vape juice and vape mods for the veterans, and vape starter kits for those just beginning. Whatever your preferences may be, our friendly and knowledgeable staff will be happy to help you find it. To learn more about all of the vape accessories we offer, contact us today.
Vape shop and lounge
Shopping at Hayze Vape is a fun, interactive experience for any vaper. We welcome you into our relaxed atmosphere where you can come in, have a seat and, for a small tasting free, sample a variety of our vape flavors to see what you like best that day. All of our samples are nicotine-free. We will help you set up any new flavor or mod you purchase, should you need it. And no need to worry if you're a less conventional vaper ⁠— in addition to our vape juices, vape mods, pod systems, and the common vape accessories, we also carry cartridge batteries and dry herb vaporizers. We have something for every vaper, no matter how you vape.
Vape Mods
Are you looking to quit smoking and need a positive alternative? Look no further than Hayze Vape. Our knowledgeable staff can help you choose the right vape pen and accessories for you. We understand exactly what you need when it comes to vape supplies. You can be a seasoned vape user, or brand new, but we are sure to satisfy all levels of vape experience. Call Hayze Vape for more information, or stop by to see our quality selection and relax in our awesome vape lounge!
Vape Supplies
Hayze Vape offers the widest selection of vape supplies and accessories of practically any store in Waukegan. We carry all of the top brands available and offer them at a reasonable price. If you are new to vaping and aren't sure what you will need, we also offer starter kits, and our staff would be more than happy to answer any questions you might have. We are highly experienced and can help you find the products that work best for you. Come into Hayze Vape today to find all of the accessories you may need and enjoy them right away in our comfortable vape lounge.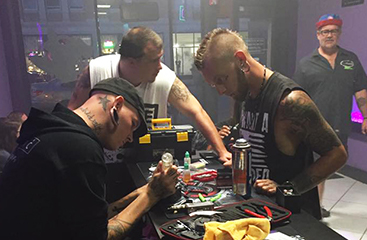 Vape Lounge
Once you've found the perfect vape pen, e liquid flavors and vape accessories for your experience, please make yourself at home in our vape lounge. You'll be hard-pressed to find a more comfortable and sociable environment for vaping. Our friendly staff will be delighted to provide you with all the advice and assistance you need, so don't be afraid to ask. We pride ourselves on providing a non-intimidating experience to those new to vaping. To explore the fantastic environment of our vape lounge and shop, please stop by Hayze Vape today!
 Vape Juices
Here at Hayze Vape, we have a seemingly never-ending selection of name-brand vape  juices, so we'll always have something to accommodate your tastes. Our vape juices and e-liquids are comprised of only the finest quality products: you'll never find a dull taste here! Once you've picked out your juice, go ahead and relax in our vape lounge. Please make yourself comfortable — we want you to feel right at home here at Hayze Vape. To explore our name brand vape juices and vape lounge, please contact us or stop by Hayze Vape today.